Bilsthorpe incinerator: Protestors vow to fight on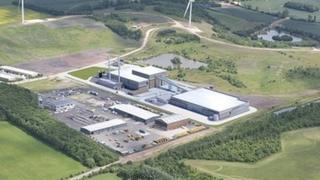 Opponents of an incinerator plant say they will continue to fight it despite a recent decision to approve the unit.
The Peel Environmental gasification plant in Bilsthorpe was given the go-ahead by the government after an 18-month protest.
Sherwood MP Mark Spencer said the technology had failed in another similar project in Teesside.
However, Peel said the process was "a proven technology" already used at commercial facilities around the world.
A government review rejected concerns about "odour, vibration and noise".
The statement from Peel continued: "There's a need for this type of facility to provide both a solution for Nottinghamshire's waste and to generate low-carbon energy for the region.
"Our plans will stimulate investment and bring new jobs to the area in addition to bringing a former industrial site back into productive use."
Mr Spencer, a Conservative MP, said: "It makes no sense when you know for a fact that it isn't working elsewhere.
"It is an experimental technology and it has failed."
The £70m plant would use 120,000 tonnes of waste a year to create enough fuel to power about 23,000 homes.
Nottinghamshire County Councillor John Peck said: "There is a right to appeal to the High Court, but we are not sure we can appeal as it will cost tens of thousands of pounds... "
Mr Spencer said he had "not given up yet" and would "do anything we can to overturn the decision".
The project is expected to create 46 jobs at the site which ceased coal production in 1995.