Woodborough 1966 jets' crash remembered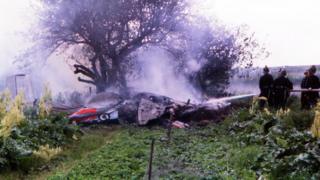 Fifty years ago two aerobatic jets collided mid-air over a village, with the pilots and residents miraculously escaping serious injury.
Debris was showered over a wide area of Woodborough, Nottinghamshire, in 1966, when the Provost planes crashed.
"It was a miracle no-one was killed," said David Rose, talking of the crash, which happened as children were walking to school.
Two of the pilots took part in an anniversary event in the village.
"One pilot [who'd ejected, floated down] a few yards away from me," said Mr Rose.
He said he asked the pilot if he "was okay and took him in my Land Rover to get help".
Tim Thorn was flying one of the planes, with fellow pilot Mike Sedman - Mr Thorn's student at the time - sat next to him.
Thursday was the first time the pair had returned to the village since the crash.
Mr Thorn said the exercise the pair were going to do was designed to teach Mr Sedman how to recover from a spin.
"I remember vividly seeing the aeroplane as we came out of cloud," Mr Sedman said. "He [Mr Thorn] looked behind and I was looking ahead and I saw these four aeroplanes coming towards us.
"He tried to take avoiding action...but we still hit them - there was this huge explosion as we hit."
Mr Thorn said: "It chopped off the back of our aircraft, so we had no wings and no tail."
As a result of the crash, the duo were unable to fly for six months but continued to pursue careers in aviation, occasionally encountering each other along the way.
One news report of the day said the only casualty was a man who was stung by nettles when he dove into a ditch to avoid some falling debris.
"[But] it was total chaos. I could see debris flying everywhere," another eyewitness, Mike Batt, remembered.
"It was scattered all over the village.
"The schoolchildren were just walking to school at the time, as everyone walked in those days, but none of them were hurt."
A Daily Mail article reported four aircrafts were in the air in total, two of which "brushed while in formation" and crashed.
"The two instructors and a student pilot parachuted to safety," it noted.
Margaret Freeman, who was 23 at the time, was working at the post office on the village's main street when a customer ran in saying a plane was about to crash.
"One of the pilots parachuted from the plane and landed near the Four Bells and the other one landed near Mrs Russell's house on Main Street," she remembered.
Mrs Freeman said she went to the crash site later and took "a small piece of metal" from the plane that she kept as a souvenir.
She said villagers gathered at the church later for a service of thanksgiving to celebrate the fact that no-one was killed.
Mr Rose, who took a series of black and white photos on the day, added: "I always carry a camera with me and I had one that day - an old Kodak Brownie.
"I took a photo of the debris that landed in Governor's Field - if it had landed a few yards further it would have destroyed the vicarage."
Howard Heeley, of the Newark Air Museum, said: "There is a church memorial (in Woodborough) to the crash that says 'Thanks be to God no one was hurt'.
"It it is the only (air crash) memorial in Nottinghamshire that I know of that commemorates the living instead of the dead.
"One thing is certain - the airmen were lucky and village was lucky that day."