'Flawed' benefits test criticised by double transplant patient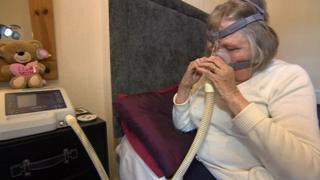 A woman who had two kidney transplants says she has been the victim of a "flawed" government benefits test.
Ann Forster, 56, from Nottinghamshire, receives £220 a month in personal independence payments (PIPs) which helps provide transport.
The decision to cut her benefits was taken after a face-to-face home assessment declared her mobile, but she says she was never asked to walk.
The government said Mrs Forster's appeal is being reviewed.
'Didn't leave settee'
Mrs Forster, who was interviewed in 2000 by BBC Look North after one of her kidney transplants, has received PIPs for two years, which pays for a mobility car.
After an assessment at her home in Kirkby-in-Ashfield, she was informed in a letter by the Department for Work and Pensions (DWP) that she can stand and then move more than 200m (656ft).
But Mrs Forster's husband Geoff said his wife did not walk any distance during the assessment.
"It is definitely and absolutely a flawed (assessment) system," he said.
During the half-hour visit from the DWP, she "didn't even leave the room," he said.
"She didn't even leave the settee but for a metre to stand up and bend over, that was it."
Mrs Forster, who also has an underdeveloped lung, said: "I am stressed, and then when I'm stressed I get upset."
A spokesman for the disability charity Scope agreed the system is flawed and the government needs to "look again at the assessment process" and "ask different questions in a different way".
A DWP spokesman said: "Decisions are made following a face-to-face assessment and consideration of the medical evidence provided by the claimant.
"Mrs Forster has asked for a reconsideration following the initial decision and her case is currently being reviewed."
The letter sent to Mrs Forster, seen by the BBC, said: "A musculoskeletal examination showed that you...completed all movements at a normal pace with no pain, discomfort or breathlessness.
"You said you have difficulties with moving around, but I have decided you can stand and then move more than 200 metres as the examination showed no significant restrictions and no breathlessness was observed."