Nottingham biker David Staley jailed for killing cyclist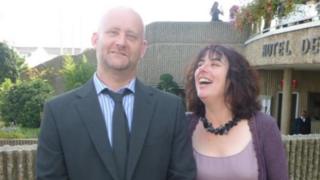 A motorcyclist who crashed into a cyclist shortly after pulling a wheelie has been jailed for her death.
David Staley, from Arnold, Nottingham, killed Sally Shalloe when he was riding at up to 89mph (145kmh) on Middleton Boulevard in the city.
The 32-year-old admitted causing death by dangerous driving and was jailed for two years.
Ms Shalloe was a research fellow at Nottingham University and had worked on road safety studies.
Nottingham Crown Court heard how father-of-two Staley was seen riding his 900cc Honda Fireblade "as if he was on a race track".
Ms Shalloe was crossing the road when Staley hit her, causing serious injuries.
Staley also suffered severe injuries and spent five months in hospital.
Judge James Sampson said: "She tried to cross the road with the lights on red, it must be recognised, but you hit her at high speed.
"Shortly before, you'd been seen to pull a wheelie and then continue on at excessive speed.
"If you'd been driving correctly, you would have seen her in good time."
Ms Shalloe's husband Jim Hill said her death was "like being split in two with an axe".
The court heard Staley did try to stop but was travelling too fast in the 40mph zone.
He was left "a broken man" when doctors told him what he had done, and still has no memory of the crash due to a brain injury, the court heard.
Staley will face a five-year driving ban starting when he is released from jail, and will be required to retake his test.