'Staff shortages' sees surgery suspended at Bassetlaw Hospital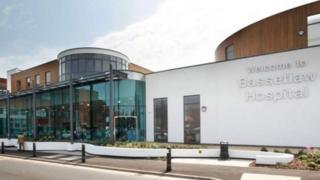 Emergency surgery at a hospital has been suspended since 30 April due to staff shortages, it has emerged.
Surgical patients at Bassetlaw Hospital are now being transferred to Doncaster Royal Infirmary - almost 20 miles away.
Labour has called on the government to "get a grip" on the "staffing crisis" in the NHS.
Health secretary Jeremy Hunt said recruitment has been an issue because "successive governments failed to understand the needs of nursing".
David Purdue, chief operating officer for the Doncaster and Bassetlaw Hospitals NHS Foundation Trust - which runs four hospitals including Bassetlaw and Doncaster Royal Infirmary - said the transferral of patients was "not ideal".
"The change has taken place as there is limited availability of doctors for the out-of-hours rota," he said.
"We have been trying to recruit for the positions for some time, and despite our best efforts, those recruitment drives have been unsuccessful.
"It's not ideal for those patients... but in terms of patient safety, that's the decision we had to come to."
Mr Purdue said 10 to 14 patients a week have been affected, and it is unclear how long the trust will be in this situation.
Last year, a report by the Care Quality Commission (CQC) said staff vacancies in some areas of the trust were "impacting on the quality of service".
Shadow health secretary Heidi Alexander raised the issue in the House of Commons on Tuesday.
"In the last few weeks, we have seen reports of emergency surgery suspended in Doncaster, an A&E department downgraded in Chorley and two critical care units closed in Leeds - all because of staff shortages," she said.
"Can I urge him [Mr Hunt] to get a grip on the cause of the staffing crisis, or I can tell him it will be patients who are facing the consequences."
Mr Hunt said: "We have failed in the past to recruit enough staff - one of the reasons for that is because successive governments failed to understand the needs of nursing in wards."