More teenagers quizzed over Nottingham warehouse blaze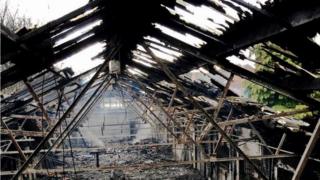 Two more teenagers have been arrested after a fire at a disused building gutted the premises.
Two boys, aged 16 and 17, were arrested on suspicion of burglary and bailed after the fire on Faraday Road in Lenton, Nottingham on Wednesday.
An 18-year-old man and 16-year-old boy have already been arrested on suspicion of arson.
A police spokesman said they believe the building was targeted by burglars before it was set alight.
The owner of the building has been contacted but the current leaseholder has not yet been traced, he added.
The building was formerly the base of S&P Casuals and some remaining clothing stock was taken.
More than 30 firefighters tackled the blaze and people living in the area reported heard loud bangs as the roof of the building collapsed.
"It has left the building in an almost demolished state, although what is left will have to be taken down for safety reasons," a fire and rescue spokesman said.