Teenagers questioned over Nottingham warehouse arson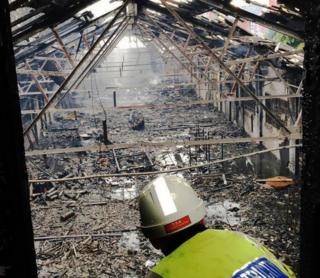 Two teenagers are continuing to be questioned about a fire that gutted an industrial unit in Nottingham.
More than 30 firefighters were called on Wednesday afternoon to the disused warehouse on Faraday Road in Lenton.
An 18-year-old man and a 16-year-old boy were arrested on suspicion of arson later the same day.
Station manager Martin Molloy, of Nottinghamshire Fire and Rescue, said the blaze reached temperatures of up to 1,000C.
"It has left the building in an almost demolished state although what is left will have to be taken down for safety reasons," he said.
People living in the area reported hearing loud bangs as the roof of the building collapsed.
Neighbour Rhea Chaplain said: "There was a massive explosion... everyone got ushered down and there was loads of smoke. It was quite scary."
Some properties were evacuated and neighbours were told to keep windows and doors closed.
One resident, who was evacuated from his house, said it was "pandemonium" when the fire broke out.
"I was in my room and heard three loud explosions then there was smoke everywhere," he said.
"It was like someone had let off 50 fireworks."
Environmental health officers said a clear up at the site was under way.
Faraday Road remains closed in both directions between Derby Road and Wollaton Road.