Robin Hood 'to be focus of transformed Nottingham Castle'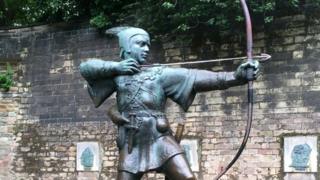 Robin Hood is to be the centrepiece of a multimillion-pound transformation of Nottingham Castle, the council says.
The legend brings tourists to the city from around the world, but many are disappointed when they see the castle and little mention of Robin Hood.
Nottingham City Council said it was responding to public feedback by creating a "memorable Robin Hood experience".
Work is expected to start next year, with the attraction opening in 2020.
The £24m project has been under way since 2013, but the city council has announced more details of how it will create a "world-class visitor destination".
Plans include:
The creation of Robin Hood Gallery, allowing visitors to "step back in time" with interactive audio-visual storytelling, interactive games and experiences
A new Rebellion Gallery exploring four major periods of social unrest and rebellion in Nottingham, from the medieval period onwards
Galleries telling the story of Nottingham's most famous industry - lace
---
Where is Nottingham Castle's £24m coming from?
Heritage Lottery Fund - £13m (subject to final approval later this year)
Nottingham City Council - £5.5m
Fundraising via Nottingham Castle Trust - £3m
Regeneration and other public funds - £2.5m
---