Nottinghamshire child sex abuse: Council praises 'brave' victims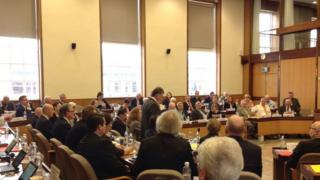 A council leader has praised victims of historic child sexual abuse in homes run by his local authority for their "courage and bravery".
Nottinghamshire County Council's Alan Rhodes made a public apology after the conviction of former social worker Andris Logins for rape and abuse.
Logins was jailed for 20 years on Wednesday at Nottingham Crown Court.
Mr Rhodes said: "It was our role to keep children safe and we clearly didn't".
He told a full council meeting in Nottingham that the council had "failed in our duty of care".
"I want to pay tribute to the bravery, courage and persistence of these victims who at last have seen justice prevail with a lengthy custodial sentence for a man who betrayed his position of trust," he said.
Updates on this story and more from Nottinghamshire
Logins, 57, was convicted as part of a police inquiry into historical abuse at children's homes in Nottinghamshire.
He was in his mid 20s when he abused two girls and two boys at Beechwood Community Home in Mapperley.
A Nottinghamshire police spokesman said after the trial that the "brutal" regime at the care home made children too afraid to report abusive staff.
Mr Rhodes added in his statement that "these offences took place more than 30 years ago and it is important to assure people that residential children's homes of the 1980s bear no resemblance to those of today."
Campaigner Anna Marie Cope said: "Years ago it was just 'sweep it under the rug and it will go away' but now people are reaping what they have sown."
Mandy Coupland, who also campaigns against child abuse, said: "I feel like the tide is turning now. More survivors can come forward now and feel they will be believed."
Diane Hawley added: "The conviction was a huge, huge relief - it was an historic moment.
"We finally have got that pubic apology that we deserve. It is the first steps ... it means so much."