Nottingham's Claremont School forced to shut by norovirus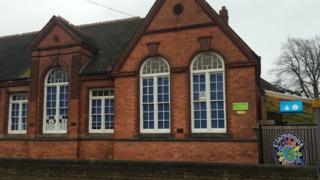 A school has been forced to close after a fifth of its pupils became ill with the winter vomiting bug norovirus.
Claremont Primary and Nursery School in Nottingham has been closed for a deep-clean after pupils began vomiting in the playground on Thursday, Public Health England (PHE) said.
Up to 80 of the 400 pupils are thought to have the virus so far.
But head teacher Andrew Gallagher told the Nottingham Post he would not be surprised if the number increases.
The school is expected to re-open on Monday.
'Can spread rapidly'
A letter has been sent to parents and carers warning them to look for symptoms of the highly contagious virus.
"If your child develops any of these symptoms, please keep them off school for 48 hours from the last episode of diarrhoea or vomiting," said the letter.
"All surfaces, equipment, toilets and carpets will be deep-cleaned in an effort to prevent the spread of the virus in school."
PHE East Midlands said infection control advice was given to the school to ensure there is no onward transmission of the virus.
Dr Vanessa MacGregor, consultant in communicable disease control, said: "Viruses such as these are extremely infectious and can spread rapidly when introduced to close-knit environments such as schools.
"This is an unpleasant illness but most people usually make a complete recovery without any specific treatment other than rest and drinking lots of fluids to avoid dehydration."
What is norovirus?
Noroviruses are a group of viruses that are the most common cause of stomach bugs in the UK, affecting all ages.
Around 12 to 48 hours after becoming infected, the virus causes sudden onset of nausea followed by projectile vomiting and watery diarrhoea.
Some people may have a fever, headaches and aching limbs - often leading people to call the illness "stomach flu".
The very old and very young risk becoming dehydrated which may require hospital treatment.
Those who have been infected should be isolated for 48 hours after their symptoms have gone away.