Mansfield mayoral election campaign probe dropped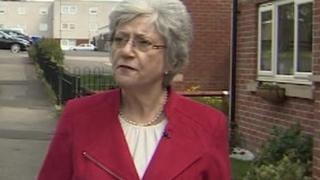 A police investigation into "financial irregularities" during a mayoral election campaign in Mansfield has been dropped due to "insufficient evidence".
Police said it was studying claims election winner Kate Allsop's campaign cost more than legally permitted.
Candidates must not spend more than £6,969.72, with all expenses declared.
The Mansfield Chad said the inquiry focused around businessman Stewart Rickersey, who denied overspending on Mrs Allsop's election bid.
Mr Rickersey told the BBC he wants to know who accused him and Mrs Allsop of wrongdoing.
"We've both been tarnished by this," he said.
Mrs Allsop said she was "very pleased" over the outcome and added: "The whole thing has been absolutely horrible."
In a statement, Fiona Morrison, reviewing lawyer at the Crown Prosecution Service (CPS), said: "Following a careful review, the CPS has concluded that no further action will be taken against one individual in relation to allegations of electoral offences in the Mansfield District Council Mayoral Election in 2015.
"This decision was made in accordance with the Code for Crown Prosecutors. There is insufficient evidence to provide a realistic prospect of conviction."
Charges the CPS considered
Incurring election expenses in excess of the prescribed maximum contrary to Section 76(1B) of the Representation of the People Act 1983
Incorrect return of election expenses contrary to Section 81 of the Representation of the People Act 1983
False declaration of election expenses contrary to Section 82 of the Representation of the People Act 1983