Car filmed going wrong way along dual carriageway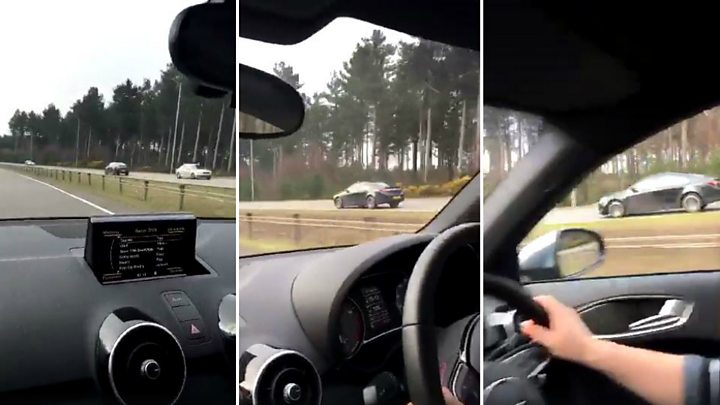 A driver has been filmed driving the wrong way down a dual carriageway after being seen doing a three-point turn on the busy road.
Kieran Shackleton, who filmed the car while his mother was driving, said it was fortunate there was not a crash.
His shocked mother can be heard shouting "Whoa, where are you going, you idiot?" as she sees the other driver.
Nottinghamshire Police is investigating the incident.
It happened on the Rainworth bypass at about 14:30 GMT on Sunday.
'A bit shocked'
Mr Shackleton said a woman in her 40s or 50s was driving the car, and he believes she had missed her turning.
"It took me a few minutes to work out what was actually happening," said the 18-year-old, who lives in Forest Town.
"She did a three-point turn in the middle of the carriageway and started driving into oncoming traffic."
He thought the woman was driving at "at least 55mph", and said his family were all "a bit shocked".
"A few cars had to go into the other lane and swerve out the way," he said.
"Fortunately there wasn't a crash."
Nottinghamshire Police confirmed they are investigating the incident and have asked anyone with information about the vehicle or its driver to call them on 101.