Nottingham City Council 'failed' baby girl due to delay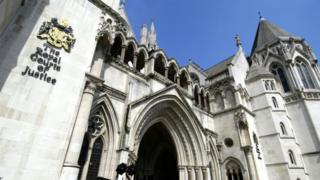 A council has been criticised by a High Court judge for being "inexcusably late" in applying to get a newborn baby taken away from its parents.
Plans were made to place the baby in foster care after her mother gave birth due to problems including her "violent" relationship with the father.
However, the matter did not get to court until the baby was 12 days old.
Nottingham City Council said it accepted that care proceedings should have been issued earlier.
'Great disservice'
Mr Justice Keehan said the delays meant the parents had been denied the opportunity to properly challenge the council, because the court could not accommodate a full one-day "contested hearing".
In his judgement, he said: "I am in no doubt that the parents in this case have been done a great disservice by this local authority."
The baby remained in hospital after her birth, but was due to leave by the time the court hearing was held.
Mr Justice Keehan said judges should be asked to make care orders within five days of a child's birth, and the council had "failed" the little girl.
"Inexcusably late"
May 2015 - The mother's son, fathered by a different man, is placed into the care of his maternal grandparents because social workers are concerned about his care
October 2015 - Social workers become aware the mother is pregnant with another child, due to be born in January 2016
16 January 2016 - The mother gives birth in hospital to a baby girl
18 January 2016 - The hospital notifies social workers of the baby's birth
21 January 2016 - Social workers place papers before the local authority's solicitors for consideration of the issue of care proceedings
28 January 2016 - A local authority solicitor issues care proceedings and applies for an "urgent" interim care order. The case is called before Mr Justice Keehan at 15:00 GMT the same day
A birth plan was prepared when social workers became aware the mother was pregnant, but the judge later said it was "not worth the paper it is written on" because it was "ignored by everyone connected with the local authority".
The judge concluded he could not risk placing the baby in the care of her mother because of allegations that she abused methadone during her pregnancy, and failed to engage with any antenatal care.
He could not place the baby in the care of her father because he took a drugs overdose days before his daughter's birth, which caused him to collapse and be admitted to hospital, the judgement said.
Alison Michalska, corporate director for Children and Adults at Nottingham City Council, said in a statement: "We accept that care proceedings should have been issued earlier in this case of a newborn baby, who was 12 days old at the time of the hearing, to prevent an urgent application when the baby was due to leave hospital."