Nottingham tram stop sign spelling error 'a joke'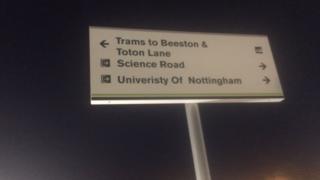 A misspelt sign at a stop on Nottingham's tram network has been branded an "absolute joke".
The sign - on the Beeston-bound platform of the Queen's Medical Centre stop - points commuters towards the "Univeristy Of Nottingham".
The error could have been there for "seven to eight months", it is estimated.
A Nottingham Express Transport (NET) spokesman said they will now be looking to replace the sign next week.
People were quick to condemn the "unfortunate error", captured by a BBC journalist.
It follows another spelling mishap spotted on a sign last July on the network, which stated "Chillwell Road" rather than Chilwell Road.
"Absolute joke - what is happening with the world," Melanie Winskill wrote on BBC Radio Nottingham's Facebook page.
Gill Bennett pondered: "Maybe the people responsible didn't go to university."
A NET spokesman said it is unsure how long the error has existed at the stop, but added it "could have been there for seven to eight months".
"Clearly this is an unfortunate error made during the production of the sign," the spokesman said.
"We will be looking to replace it as soon as possible next week now it has been pointed out."