Millionaire ex-wife facing £1m legal bill after losing £18m asset row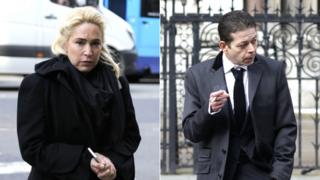 A woman who said her ex-husband was "frittering" away their £18m fortune on "boys' toys" is facing a £1m legal bill after losing her case.
Maya Kanev-Lipinski and Shahar Lipinski built up a student property empire across the East Midlands before separating in 2012.
The pair agreed to divide their assets 50/50, but Mr Lipinski was accused of purposely "frittering" away cash.
The High Court heard there was "no dispersal" of assets by Mr Lipinski.
'Fear, suspicion and dislike'
In December, Mrs Kanev-Lipinski, 44, obtained a temporary High Court asset freezing injunction against her ex-husband and wanted to make the order permanent.
She insisted he was spending the millions they made from their student accommodation businesses on penthouse flats and a £70,000 convertible Bentley.
Her barrister, Andrew Hunter QC, claimed Mr Lipinski had treated the fortune "as his own personal wallet" and had vowed to leave his ex-wife "parked and penniless".
But Mrs Kanev-Lipinski wept in court after a judge refused to grant her a freezing order that would have given her control of Mr Lipinski's financial affairs pending finalisation of their divorce.
Mrs Justice May said Mrs Kanev-Lipinski's "fear, suspicion and dislike" of her ex-husband had got the better of her.
"There has been no actual dispersal of assets by the husband in the three-and-a-half years since the divorce," the judge ruled.
That decision leaves Mrs Kanev-Lipinski looking at a legal bill approaching £1m.
Lawyers for the couple's businesses said they have spent £280,000 fighting the case, while Elizabeth Jones QC, who represented Mr Lipinski, 45, said it had cost him £423,000.
Mrs Kanev-Lipinski's counsel said their fees had reached "two hundred-odd thousand" pounds prior to the three-day hearing.
The former couple's empire was based mainly in Nottingham and Leicester and the pair - who have two daughters - lived in a £2m five-bedroom home near Nottingham before they were divorced by a rabbinical court in Israel.
An Israeli court is due to finalise their divorce within the next few months.