Bombed WW2 Newark factory was rebuilt in three weeks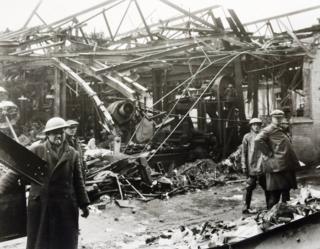 The 75th anniversary of an air raid on a factory that played an important part in the World War Two effort is being marked.
The Ransome & Marles bearings factory in Newark, Nottinghamshire, was so vital it was rebuilt in three weeks.
The air raid on 7 March 1941 resulted in the deaths of 41 people and left 165 badly wounded.
But many details were censored at the time and have only been uncovered in recent years.
Former journalist Trevor Frecknall, who wrote a book to mark the 75th anniversary, said British censorship rules would not even allow newspapers to acknowledge which "North Midlands town" had been attacked.
"At the time of the war, it was the biggest manufacturer of ball bearings and roller bearings in the allied world, that's how important it was to the allied war effort," he said.
"This is why government forces swept in to Newark afterwards to get the factory rebuilt and up and running again within three weeks."
The victims were mostly killed by either bombs or German machine gunners, but one woman pushing a pram was killed by friendly fire.
The remains of another woman, Esther Varney, were never found. She died when an air raid shelter was bombed and only one of her red shoes was ever recovered.
A young couple, Vera Stafford and Bert Emerson, were saved by their love for each other.
Instead of going back to work after having dinner, Bert went to the offices to see Vera, a typist, and was talking to her when one of the two Heinkel aircraft launched its bombing run.
He pushed her to the floor and lay on top of her, and neither of them were injured.
If he had returned to work he would have died with his colleagues, and Vera would have died when her designated air raid shelter suffered a direct hit.
They were married for 70 years until Bert died in October last year, having recently contributed his memories to the book.
---
Three days of commemorations
Saturday - A ceremony outside Newark Town Hall from 13:30 GMT, hosted by Friends of Newark Cemetery.
Sunday - A mock air raid at Newark Air Museum, beginning at 13:35, the time the first bomb was dropped. At 16:00 a convoy of vintage vehicles and re-enactors will leave the museum and stop at the site of the bombing, before proceeding to a civic service at St Mary's Church at 17:00.
Monday - A commemoration at Newark Cemetery, where 30 of the victims are buried, from 13:30 to 16:30.