No ID after body found during Gedling County Park run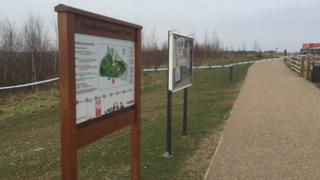 Police have been unable to identify a man who was found dead while people took part in a 5km run event.
The body was found at Gedling Country Park in Nottinghamshire on Saturday by a man "answering the call of nature".
Police are urging people to check on their neighbours, friends and relatives - particularly if they have not heard from them recently.
A spokesman said the death was being treated as unexplained pending enquiries.
The body was discovered at about 09:20 GMT.
BBC Radio Nottingham journalist Lewis Scrimshaw did the run himself and spoke to the man who found the body.
"He said he came across the body of a man while answering the call of nature in some thin woodland," said Mr Scrimshaw.
"He seemed a bit shaken.
"There were still runners leaving. They would have run past it earlier in the morning, maybe 50 yards past it."
Anyone with information is asked to contact Nottinghamshire Police.