Man 'answering call of nature' finds body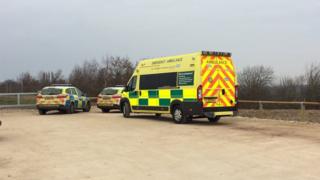 A body has been discovered in a park close to where people were taking part in a 5km run.
A BBC journalist who did the run said the body was found by a man "answering the call of nature" at Gedling Country Park in Nottinghamshire.
It was found in thin woodland about 50 yards (45m) from a path near the main car park.
An ambulance and three police cars arrived as the last of the runners were finishing.
Lewis Scrimshaw from BBC Radio Nottingham said: "I spoke to a man whose wife had been doing the park run and he said he came across the body of a man while answering the call of nature in some thin woodland.
"He was speaking to my wife and I at same time. He was a bit shaken and then went to talk to police."
Mr Scrimshaw said dozens of runners ran near where the body was found earlier in the morning.
Nottinghamshire Police is investigating the death, which they are currently treating as unexplained.
A spokesperson said: "Nottinghamshire Police have cordoned off an area of Gedling Country Park following the discovery of a body at around 9:20 GMT today.
"The death is currently being treated as unexplained and an investigation to identify the body and establish the circumstances surrounding the discovery has begun."
Anyone with information is asked to contact Nottinghamshire Police.