Autumn Grange case: Plea to report care home concerns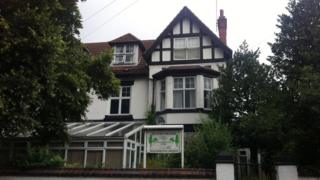 Relatives of care home residents have been urged to report any concerns they may have to social services.
The plea comes after a care home boss boss was jailed over the death of an 86-year-old woman in Nottingham.
Ivy Atkin died after she was found dehydrated and malnourished at Autumn Grange, in Sherwood Rise, in 2012.
Yousaf Khan, 47, of Nelson Road, Nottingham, admitted manslaughter and was sentenced to three years and two months at Nottingham Crown Court.
Helen Jones, head of adult social care at Nottingham City Council, said: "Most of our residential homes are of good quality and most of the people who work in them are caring individuals so I wouldn't want to leave people with a sense of anxiety.
"One of the things we learned is that relatives had complained to the home about their concerns but they didn't know they could complain to social services departments."
Ms Jones said the council put its own staff in to Autumn Grange in October 2012 after a number of professionals raised concerns.
"When our staff went in, they were absolutely horrified, really upset and distressed at what they came across.
"They were neglected to the degree we didn't want to place anyone there and wanted to put our own staff in to make sure residents were safe. We'd never had to do that before."
In a statement after Khan's sentencing on Friday, Ms Atkin's family said she was a "feisty person" who was still "alert" before she was admitted to the home.
They said: "We believe Ivy's life was shortened by the terrible care she received at Autumn Grange which resulted in her suffering a most undignified end to her life."
Ms Jones said she had one message for care home providers: " The people in those homes have to be your primary concern and if they're not and you don't work effectively with us, then action will be taken."