'Infestation fears' over 2,000-tonne Newark rubbish heap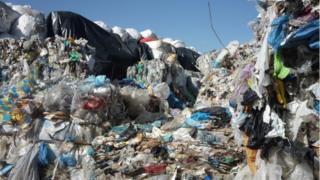 Hundreds of rubbish bags mysteriously dumped on derelict land last year could take another 12 months to remove, prompting "infestation fears".
Almost 2,000 tonnes of mixed waste from commercial premises appeared on the site on Bowbridge Road, Newark, Nottinghamshire, last March.
Newark and Sherwood District Council said the pile needed moving quickly.
The Environment Agency hopes legal action will unlock thousands in compensation to pay for the clean-up.
Local resident Vera Ellis said: "It should be removed a lot sooner because it's a fire hazard - it's next to a petrol station."
Another resident Terence Lowe, 70, said: "There's a bad smell when it gets warm."
The agency issued an enforcement notice to the site's owner, who has not been named, last July demanding the waste be moved by December.
"This notice was not complied with and we are therefore looking to take legal action onto the next stage," a spokesman said.
'Frustrated and distressed'
"We expect that it would take at least 12 months or probably longer for the court to rule and provide a compensation order that should provide the money to clear the site.
"It is not the policy of the Environment Agency to pay for the removal of waste as it could be seen as an encouragement to those who operate illegally."
It added it was exploring "other options" without having to wait for the court judgment and compensation.
Councillor Tony Roberts, chairman of the district council's environment committee, said he was "frustrated and distressed" about the time scale.
"It really is not good enough, somebody has to take responsibility and get it moved and disposed of," he said.
He has called on the agency to pay for the initial removal of the bags and then to recoup the costs.