Nottingham is 'UK's second city to launch smoke-free zones'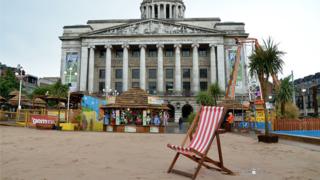 A city has become the UK's second to launch smoke-free zones in major outdoor spaces, according to its council.
People will be "banned" from smoking in Nottingham this year at events such as the Riverside Festival and theatre presentations at Nottingham Castle.
Bristol became the first UK city to pilot smoke-free zones last year.
But the smokers' group Forest said smoking outside posed "no risk to anyone's health, including children".
Updates on this story and more from Nottinghamshire
The city's summertime beach and Winter Wonderland at its main Market Square were both smoke-free areas in 2015.
Nottingham City Council said the events were "overwhelmingly popular last year, with 91% of people surveyed afterwards saying they would support more family events being smoke-free in the future."
A council spokesman described the scheme as a "voluntary ban", and said there would not be any fines or enforcement but "people will be asked not to smoke".
The authority added it was not aware of any UK city - apart from Bristol - that has led such an initiative.
Smoking in the city
More than one in every four adults - about 64,000 - in Nottingham is a smoker, compared with fewer than one in five nationally
22% of households in the city smoking in the home around children
The total cost to the NHS in Nottingham every year to deal with smoking-related ill-health is about £11m
About 268 million cigarettes and roll-ups are smoked in the city every year, generating 46 tonnes of litter
Source: Nottingham City Council
Councillor Alex Norris, portfolio holder for adults and health at Nottingham City Council, said: "Smoking has a huge impact on the health of Nottingham's citizens.
"It's a major cause of illness and explains much of the differences in health between the richest and poorest people in our city."
But Forest director Simon Clark said: "If an adult chooses to smoke in the open air it's no-one's business but their own.
"Tobacco is a legal product and smoking outside poses no risk to anyone else's health, including children, because the level of exposure is minimal to say the least."