Miners' lung disease: Top NHS expert to meet MP over scan demand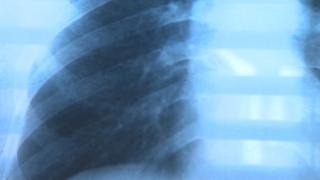 A senior NHS expert has been asked by Health Secretary Jeremy Hunt to discuss concerns raised over the diagnosis of a lung disease in ex-mineworkers.
The Union of Democratic Mineworkers wants all former miners to get CT scans.
It comes after two redundant miners from Nottinghamshire discovered they had pneumoconiosis after the union paid for CT scans privately.
Their previous X-rays at work in 2013 had come back marked "satisfactory".
Mansfield MP Sir Alan Meale, who is spokesman for 25 cross-party MPs who back the union, is to meet NHS England's national clinical director for respiratory services Mike Morgan to discuss their concerns.
Former Thorseby miners Ray Nunn and Crawford Hunter, both 51, were recently diagnosed with the disease.
A Department of Health spokesperson said: "It's essential that mineworkers who have been put at risk by their working conditions get the care and support they need.
"The Health Secretary has asked the National Clinical Director for Respiratory Services in England to meet with Sir Alan Meale to discuss his concerns about diagnosis of pneumonconiosis."
It is not yet known when he will meet Sir Alan Meale.
Jeff Wood, president of the Union of Democratic Mineworkers, which claims the industry's system of four-yearly chest X-rays was not adequate, has welcomed the meeting.
He said: "The union's request via its local MPs still remains that all former mineworkers should be afforded a CT scan which is the ultimate detection for pneumoconiosis.
"We do not believe that only underground workers are affected by the inhalation of coal dust and we have fought this for many years, as coal preparation workers and others on the surface could have been exposed to the same or more levels of dust as an underground worker."
Thoresby pit, the last in Nottinghamshire, closed in July last year and the last working colliery in the UK at Kellingley in North Yorkshire, shut in December last year.
---
'Black lung'
Pneumoconiosis is a long-term and irreversible disease characterised by scarring and inflammation of the lung tissue
It encompasses conditions including asbestosis, silicosis and "the black lung" caused by inhalation of dust
There are often many years between exposure to dust and the onset of the disease
The severity of symptoms varies, but include shortness of breath, coughing and a tight chest
The disease killed 147 people in 2013, according to Health and Safety Executive figures
---