Bid for councils in Nottinghamshire to be 'scrapped'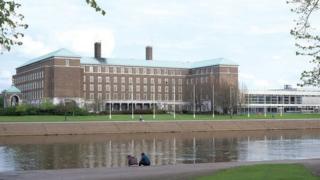 District and borough councils should be scrapped and replaced by one authority to save money under plans suggested by Conservative councillors.
Kay Cutts, Tory group leader on Labour-led Nottinghamshire County Council, said with the North Midlands devolution deal due to be signed off, the idea needed consideration.
But the leader of one Conservative-led district council said the idea was an "unhelpful distraction".
The motion was defeated on Thursday.
Updates on this story and more from Nottinghamshire
Ms Cutts said: "We're talking about pooling all the money that comes in for local government...
"Everybody sees the logic and the sense, everyone sees that we can save money and all we're doing is propping up a system for sentimental reasons."
'Catastrophic' proposal
However, Roger Blaney, Conservative leader of Newark & Sherwood District Council, said the motion was an unhelpful distraction from the North Midlands devolution bid.
"The East Midlands needs to be more than just a wart on the end of the nose of the West Midlands."
Neil Clarke, Conservative leader of Rushcliffe Borough Council said: "It's either unfortunate timing or intentional timing."
Both men told the BBC they were not consulted by Ms Cutts before she proposed the motion.
Simon Greaves, leader of the Labour-led Bassetlaw District Council, said centralising power to Nottingham would have "catastrophic consequences" for his area.
"This is a cynical move by Conservative politicians who don't give a damn about Bassetlaw and amounts to a surgical strike against devolution proposals for the North Midlands."
---
Analysis - Peter Saull, BBC Radio Nottingham's political reporter
Kay Cutts has long called for Nottinghamshire to have an unitary authority but she has decided now is the time to push the subject again.
Why? Because a devolution deal would create a new, combined authority and an elected mayor for Nottinghamshire and Derbyshire - and her argument is that this is a layer of government too much.
She has angered some other Conservative politicians, not least the leaders of Rushcliffe Borough and Newark and Sherwood District Councils.
It is unlikely to be passed but there are big changes coming to the way our region is governed and there will be plenty more debates like this.
---