Nottingham ex-teacher 'raped and touched' pupils, court hears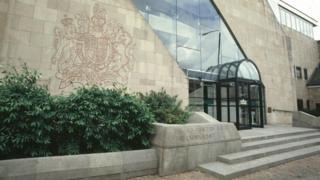 A former deputy head teacher abused his position to rape and sexually touch pupils, a court has heard.
Sixteen of the 17 charges against Roger Caffrey, 70, involved girls under the age of 16 - some believed to be as young as nine.
The prosecution said three counts of rape and 14 indecent assaults took place in Nottingham between 1978 and 1995.
Mr Caffrey denied all the charges at Nottingham Crown Court on Wednesday.
Updates on this story and more from Nottinghamshire
Mr Caffrey, now of Sandesquoy, Tankerness, Orkney, worked at Northgate Primary School in Nottingham until 1984.
Pupils were touched while reading out loud in class or in a store cupboard in the classroom and two others were raped at Mr Caffrey's home, the court heard.
The case came to light when a former female pupil - who cannot be identified for legal reasons - contacted police in December 2012.
'Up her skirt'
Abigail Husbands, prosecuting, said the woman was called to the front of the class to read.
"It probably looked as if she was standing near him," she said. "In fact, he had his hand up her skirt.
"[The woman] describes how it progressed from there. She was clearing the store cupboard and Mr Caffrey came up behind her, lifted up her skirt and put his hands in her underwear. That happened on a number of occasions.
"[These] early occasions were Mr Caffrey testing the water."
Miss Husbands added. "As his confidence continued, the touching became more intimate and then culminated in the rape [of two women].
"He made it impossible for any of these girls to say anything. He said to one 'if you say anything, no-one will believe you'."
The trial continues.