Professor Green heads Nottingham truancy concert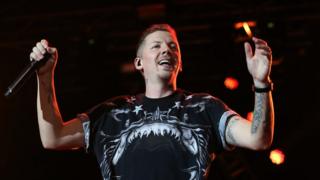 A £40,000 truancy campaign part organised by a city council is holding an "exclusive" concert to reward pupils for improving their school attendance.
About 400 children from eight secondary schools in Nottingham have won tickets for the show, headed by rapper Professor Green.
In 2014, the city was ranked one of England's worst for attendance figures.
The NUT said truancy was "more complex" than attendance alone and the reasons behind it needed to be addressed.
Organised by the Get In:Volved to Get the Gig campaign, the concert will be held at a secret location later.
The concert, plus radio airtime, videos and a website, has been paid for by the council, radio station Capital FM and participating academy schools.
NUT Nottingham president Diane Fletcher said it was "common practice" to give students rewards in order to aim for something.
"But it's so much more complex - the reasons behind truancy need to be addressed," she said.
"Having them in school doesn't mean they are going to be learning.
"100% attendance is great but it's the ones without outside issues who'll be getting the tickets."
Councillor Sam Webster, from Nottingham City Council, said he was "proud" of the children who had improved their attendance.
He said: "It is crucial that we improve school attendance in Nottingham, so the better rates must be sustained."
Professor Green said he had got involved to help children have a better attendance record than he did.
He said: "I was very academic and had the opportunity to do a lot, but unfortunately I let things going on at home affect me... and for the most part, my attendance."
This is the second year of the campaign, which won three national awards in 2015 and was praised by the Department for Education.