Nottingham City Council takes 'tent village' to court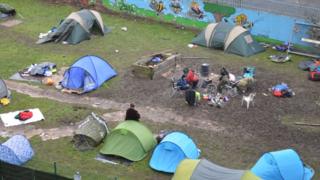 A council is taking rough sleepers who set up a second "tent village" in Nottingham to court.
About 20 people arrived at the Cliff Road site on 2 January in a bid to make Nottingham City Council open empty buildings for the homeless.
But the authority has insisted most of the occupants are "not homeless or from Nottingham".
They will find out if they can get a court order to evict the rough sleepers at a hearing on 14 January.
More updates and news from Nottinghamshire
The occupants of the tents are being looked after by FightBack, a Nottingham-based group with links to Anonymous.
They were handed an eviction notice to vacate the site by 08:00 GMT on Thursday.
But the group remained and camp organiser Alec Cohen told the BBC they will stay "for as long as it takes to get these people into the services they require".
A council spokesman confirmed a notice of the Nottingham County Court hearing had been served on the "tent village".
"What we are dealing with here is a protest led by people who are, in the main, not homeless and not from Nottingham, making demands to open up empty buildings - which is neither desirable nor necessary," he said.
The occupants refused to talk to the BBC about the hearing, but when asked if they would be gone by 14 January a spokesman said: "We're going to court."
The first "tent village" in the city appeared in Station Street on Christmas Eve, but its occupants left on 6 January after a judge ordered its removal.