Supporters of Nottingham's Tom Crawford on trial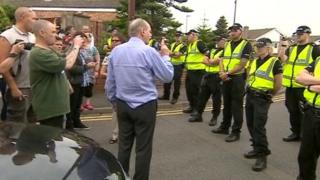 Supporters of a man evicted from his home after a legal dispute smashed their way into the building to "occupy it", a court heard.
Tom Crawford, 64, denied owing Bradford & Bingley for his mortgage, but a court found against him and in July he was evicted from his Nottingham home.
Weeks later, it is claimed protestors smashed their way into the bungalow and sealed themselves in the roof space.
Seven people are on trial for conspiracy to commit criminal damage.
They also face a charge of conspiring to commit aggravated trespass.
'Threatening and frightening'
Steven Coupland, prosecuting, told the jury at Leicester Crown Court: "This is about the action taken by these defendants following an agreement as a group that went beyond peaceful protest and involved illegal behaviour.
"The behaviour was unpleasant, threatening and frightening. This is not about the right and wrongs of the court order and eviction - which plainly caused strong feelings."
On 2 July, dozens of people protested as bailiffs, under police protection, took possession of Mr Crawford's house - the second attempt to do so after supporters blocked their way a year earlier.
Fencing was then erected around the building in Fearn Chase, Carlton with guards and dogs patrolling 24 hours a day.
The trial heard that later that month, the seven accused, including Mr Crawford's son Craig, distracted guards before smashing their way in.
One guard had red paint sprayed in his face before the protestors sealed themselves in the attic, the prosecution added.
Half the group left the same day with the rest following the next afternoon.
The seven defendants, who all deny the charges, are: Craig Crawford, 31, of Nottingham; Martin Atkin, 42, of Long Eaton, Derbyshire; Mark Hawkins, 52, of Nottingham; Mark Haining, 51, of Nottingham; Henry Kellie, 48, of Market Harborough, Leicestershire; Elizabeth Shier, 41, of Nottingham, and James Bradley, 42, of Wigan.
The trial continues.