Thoresby Colliery exhibition shows last days of mining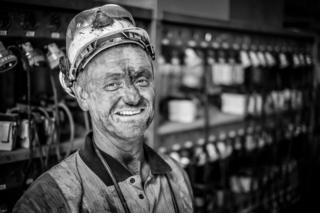 A photographic exhibition of the final weeks of mining at one of the UK's last deep coal mines has gone on display in Nottinghamshire.
Photographer Chris Upton decided to create a record of life at Thoresby Pit, near Mansfield, prior to it shutting in July.
The colliery's closure marked the end of 750 years of mining in the county.
Mr Upton said the 50 pictures at Mansfield Museum provided a "glimpse of a once proud industry".
The photographer, who is from Southwell, said it was a chance meeting with a miner, who had been redundant, that led to 10 visits to the pit over the course of a year.
He said: "As the project progressed I realised the significance of photographic record that I was creating. The last pit in Nottinghamshire was closing and it was such an important part of our industrial and social heritage."
Thoresby at one time produced more coal than any other colliery in England with profits of about £50m a year.
However, its closure was announced in April 2014 after UK Coal got into financial trouble.
The colliery's 600 workers were gradually laid off with the last 360 miners leaving in July.
However, despite the pit's impending demise, Mr Upton said the miners were "brilliant".
He said: "Initially I had concentrated on recording the site, the buildings and machinery but as I spent more time at the colliery I built up a relationship with the guys, often being at the sharp end of the pit banter.
"But their camaraderie, team spirit and professionalism in this tough and uncompromising industry really impressed me."
Mr Upton has produced of book of his work and his exhibition will be held at Mansfield Museum, in Leeming Street, until 27 February.