Man who beat 'duck pen' slave in Nottingham jailed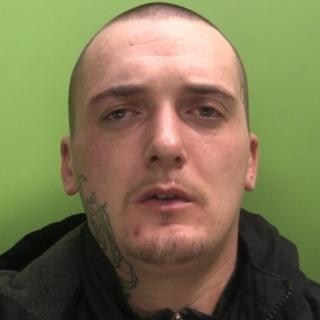 A man who repeatedly beat an enslaved woman with learning difficulties has been jailed for 27 months.
Andrew Pepper, 26, joined a couple in dishing out cruelty while the 24-year-old was kept as a slave in Aspley, Nottingham, for five months.
The woman was subjected to violent attacks and forced to sleep in a duck pen, the city's crown court heard.
Pepper pleaded guilty to seven counts of actual bodily harm and common assault on 9 December.
More updates and news from Nottinghamshire
Nottingham Crown Court was told the woman was taken to the home in Rosslyn Drive in August 2014 by someone she met online.
Pepper, Gavin Pascoe and his partner Vicki Jepson used threats of violence against the woman and her family to enslave her.
If she refused to do as she was told, she was soaked with cold water. On one occasion, Pascoe attacked her with a hockey stick, the court heard.
The woman suffered a broken wrist and ribs, and a medical exam found scarring on her back, thighs and arms.
The victim escaped when a relative of Pascoe's visited and told her to get out. She ran to a neighbour's house and the police were called.
Pepper admitted two counts of actual bodily harm (ABH) and five counts of common assault.
He was sentenced to 27 months each for the ABH assaults - to run concurrently - and four months for the five common assaults, to also run concurrently.
Pascoe, 37, was jailed on 11 December for four years, after pleading guilty to forced labour, one count of grievous bodily harm and committing ABH on at least 10 occasions.
Jepson, 29, was sentenced on the same day for two-and-a-half years, after admitting forced labour, theft and committing ABH on at least five occasions.