Second 'tent village' appears in Nottingham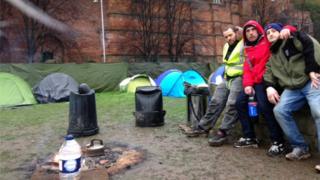 A second encampment has been set up by rough sleepers in a bid to make Nottingham City Council open up empty buildings for the homeless.
The first "tent village" appeared in Station Street on Christmas Eve but is expected to be removed later after a judge ordered its eviction.
About 20 people are now living in tents near the Broadmarsh shopping centre.
The council, which is seeking a second eviction order, said it had offered accommodation but this was declined.
More updates and news from Nottinghamshire
The tents are being looked after by FightBack - a Nottingham-based group with links to Anonymous.
Joe Public, 48, who represented the tents' occupants in court on Thursday, said an "alternate plan" was needed as the accommodation offered was "not suitable".
He said: "The second camp came up because we promised we wouldn't abandon the dispossessed people of Nottingham.
"If you have a drink-related issue and you're putting them into a hostel that does not allow you to have alcohol in your system, you're going to be kicked out.
"The moment you are kicked out, in the eyes of the council, you have refused that accommodation."
A city council spokesman said he was "disappointed" about the second encampment.
He said: "Our 'No Second Night Out' approach means we will always find emergency accommodation and connect those who need it with ongoing support.
"This was offered to the camp but most declined."
Andrew Redfern, from the homeless charity Framework, said some of those who camped in Station Street did have accommodation.
"We need to focus on those who don't have accommodation and work out a plan for those people," he said.
Some have left the Station Street camp but those who are left are expected to be evicted later by police.