Honour for 'forgotten' World War Two conscript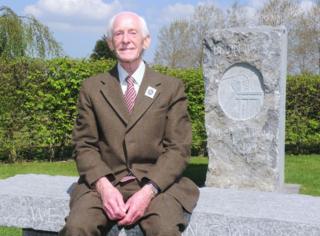 A man who campaigned for a memorial to the "forgotten" conscripts who worked in coal mines during World War Two has been given the British Empire Medal.
Harry Parkes said it was an honour for him and the 48,000 other Bevin Boys conscripted to work as miners.
The 88-year-old, from West Bridgford in Nottinghamshire, campaigned for a memorial for decades.
It was officially dedicated at the National Memorial Arboretum in Staffordshire in 2013.
'Carrying the flag'
Mr Parkes said he was initially "confused" when he found out he was being recognised in the New Year Honours, but was now proud.
"That honour I've been awarded, I'm so proud to represent the Bevin Boys, all Bevin Boys, 48,000 of us," he said.
"I feel that I'm carrying the flag because Bevin Boys were the forgotten wartime conscripts."
Mr Parkes designed the memorial as well as campaigning for it.
He hopes his honour will further help to change public perception of the Bevin Boys, as some people regarded them as cowards for not fighting.
He said he was also looking forward to being featured in the Bevin Boys Association newsletter.
"I'm sure they'll be putting something in it and all our members will gain that confidence to think we at last have been remembered, and that's my honour," he said.