Nottingham Forest fan banned for pitch invasion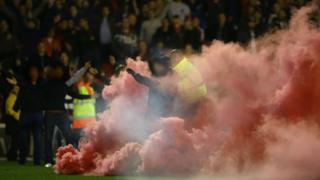 A fan who charged on to the pitch at Nottingham's City Ground and confronted a player has been banned from football grounds for three years.
Stuart Milleker, 23, of Bilborough was one of dozens of fans who invaded the pitch after the November match between Nottingham Forest and Derby County.
He swore at Derby midfielder Bradley Johnson and tried to grapple with him, according to the Nottingham Post.
Milleker admitted encroaching on to the pitch without lawful authority.
He had managed to break free from stewards during the match, which was broadcast live on TV.
More updates and news from Nottinghamshire
The banning order, imposed by Nottingham magistrates, covers all Premier and Football League matches.
In addition, Milleker was jailed for 40 weeks for a series of earlier offences unrelated to the pitch invasion, including assault causing actual bodily harm and intimidating a witness.
The derby match, won 1-0 by Forest, was attended by 25,114 fans.