Runaway reindeer that escaped from Tesco event recovering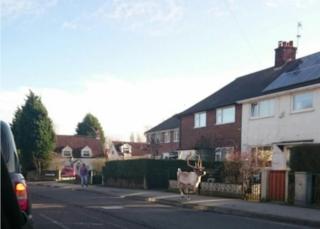 A reindeer that ran away from a Christmas event at a Tesco store is recovering from his brief break for freedom.
Bjorn the reindeer slipped his rope at a festive event at the store in Carlton, Nottinghamshire.
He ran through the streets before being found in a nearby garden and returned to safety.
The company that organised the event said he is now "resting in his stable".
'Carrots in my boot'
Warren Porter, who took a picture of Bjorn as he galloped up Carlton Hill, said at first he thought it was a "big dog".
"As it got close I couldn't believe my eyes, so I took a photo. The reindeer looked so distressed," he said,
The reindeer was reportedly startled by a car horn and sprinted away from the car park.
Updates on this story and more from Nottinghamshire
Witnesses told the Nottingham Post he was nearly hit by a bus
Mr Porter said: "It was one of the weirdest, unexpected sights I will ever witness.
"I locked my doors and thought, 'you're not getting in here, I've got carrots in my boot'."
The event was run by The Animal Company.
Director Nathan Anderson-Dixon said nine-year-old Bjorn is "fine" and "resting in his stable".
"Although he slipped his lead, he was caught within 10 minutes and was able to attend the event calm and relaxed," he said.
"I'm very happy with the way the trainers handled the situation, their training really paid off."
A Tesco spokesman said they are "pleased he was back in time to help Santa with some important deliveries this week".