Attenborough Nature Reserve ranger finds more than 1,000 species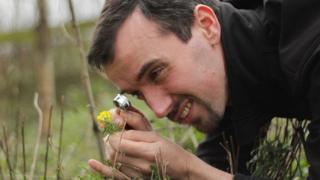 A wildlife expert has hit his goal of finding more than 1,000 organisms at a nature reserve in just one year.
Tim Sexton, from Attenborough Nature Reserve, who has been recording since January, also found 10 new species of insect for the county.
Mr Sexton said he believed the invertebrates started moving northwards due to climate change.
Despite his finds he said there were a number of "potential threats" facing wildlife at the Nottinghamshire site.
Mr Sexton, who undertook the "stock take" in addition to his role as a Nottinghamshire Wildlife Trust ranger, has found about 1,200 species and hit his target earlier than expected.
He said he was surprised by the "sheer number of species" he found, 305 of which were new to the reserve.
A 60-eyed flatworm, which is so new to science it has not been named, was found at the wildlife site on Wednesday.
The only other record of it is in Cambridgeshire, in 2012.
The box bug, a former Red Data Book species, the highest level of conservation concern, is another of Mr Sexton's top finds.
It is a species which was believed to feed only on box trees in Surrey and is one of a number of invertebrates heading to the cooler north, probably as a result of climate change, Mr Sexton said.
"Attenborough is conveniently located in the south of [Nottinghamshire] and therefore most likely to be one of the first places to be colonised by new arrivals," he said.
However, there are concerns about the adverse effects of climate change, along with cuts to government agencies and local authorities, on wildlife Mr Sexton believes.
He said: "In my time at Attenborough, we have witnessed the local extinction of the willow tit from the site, once a stronghold for this species in Nottinghamshire.
"There are many others we are now in danger of losing altogether, cuckoos, skylark, meadow pipits and common blue butterflies to name just a few."
However, the ranger pointed out there have been positives in the last ten years, notably with little egrets and Cetti's warblers becoming commonplace and bitterns - one of the UK's rarest herons - now breeding at the reserve.
Mr Sexton said he hoped the "drive, passion and commitment" of the trust, volunteers and public would protect the site for years to come.
---
Species totals
Moths - 229 - Including the dark sword grass which has not been seen at Attenborough for more than 20 years
Beetles - 124 - Including 40 different species of weevil
True bugs - 69 - Including shield bugs, plant bugs and aphids such as Trama troglodytes
Slugs and snails - 27
Birds - 120 - Including the elusive bittern
Plants - 262
Fungi - 108
Mammals - 17 - Including seven different types of bat
Butterflies - 17
Dragonflies and damselflies - 14
Others - Grasshoppers, lichens, millipedes and centipedes, hoverflies, earthworms and woodlice
---