Man hurt as car crashes into Bingham house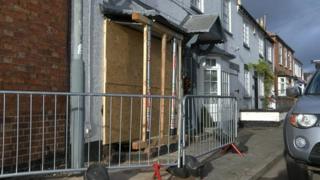 A man has been taken to hospital after a car crashed into a parked car and a house.
The 65-year-old woman and dog living in the home escaped without injury and were led to safety by firefighters.
The man taken to hospital is in his 20s and is believed to have been the driver of the car.
It happened in Fairfield Street in the Nottinghamshire town of Bingham shortly after 23:00 GMT on Saturday.
Firefighters who attended the crash said it also involved two other parked cars.
John Betts, who lives nearby, saw emergency services helping someone trapped in one of the cars.
"It looked pretty horrendous when I saw them," he said.
"I saw the frontage of the house was totally taken out and the curtains were billowing out of the house.
"I know the lady there, that's why I've come down to see if she was all right."