Nottinghamshire County Council budget plans to hit adult social care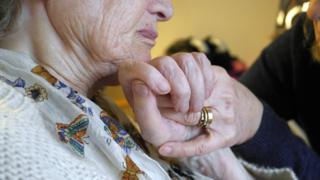 Nottinghamshire County Council has announced cuts to adult social care and school transport to save about £60m over the next three years.
The Labour-led authority said it has been forced to increase the price of some of its services for the vulnerable because of a fall in income.
About 100 posts are also at risk of redundancy as part of the proposals.
But the council said it would spend £18.8m to create new school places and £9.7m on refurbishing school buildings.
---
Analysis - Peter Saull, BBC Radio Nottingham's political reporter
This is the council's first ever cross-party budget, but after several years of pain the cuts are as deep as ever and prove that for Nottinghamshire at least, austerity is far from over.
Adult social care has been largely protected up until now but under these plans people cared for by the council will have to pay more for transport and meals in day centres.
Other savings will come from volunteers running more libraries and youth centres and some of the county's children will no longer be able to get a free bus to school.
---
Alan Rhodes, leader of the council, said: "We in Nottinghamshire have delivered what we might describe as a gold standard service and frankly we can't keep delivering at that level.
"We've looked at what our neighbouring authorities are doing for their residents and we're now bringing some parity to the situation so that charges in Nottinghamshire match those in Lincolnshire, Derbyshire and Leicestershire."
The savings required are in addition to those identified in previous years, the council said.
It said to further reduce the impact of the savings on frontline services it would consider its position regarding any increase in council tax levels.
Council members will meet on 9 December to discuss the plans.