Evicted Nottingham man Tom Crawford cleared of PC assault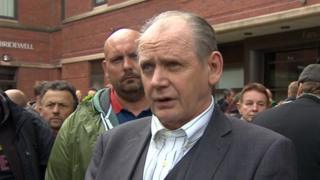 A man who received backing from around the UK when he faced losing his home has been cleared of assaulting a police officer while he was being evicted.
Tom Crawford, 64, from Nottingham, had disputed claims he owed Bradford & Bingley £43,000 in mortgage payments.
In July, dozens of protesters gathered at his home in Fearn Close, Carlton, as bailiffs, under police protection, took possession of the house.
Mr Crawford was acquitted at Nottingham Magistrates' Court on Wednesday.
During the eviction, he was alleged to have assaulted an officer.
Mr Crawford, who has been treated for cancer, claimed he had paid off the endowment mortgage he took out in 1988 and that the terms of his mortgage were changed without his knowledge.
Last year, a court ruled in favour of a debt recovery firm taking on the outstanding balance it was claimed he owed, and Mr Crawford was told to pay or lose his home.
People from across the UK joined a Facebook group called We Are All Tom Crawford, against the eviction.