Britain First criticised over Nottingham Sea Cadet poppy photo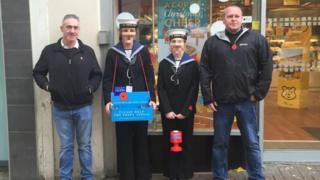 The political party Britain First has been criticised for duping cadets into posing for photographs and claiming they were "guarding" the youngsters.
Nottingham Sea Cadets said the youngsters were asked for a photograph but were not aware of who the men were.
Pictures then appeared online with Britain First claiming it was a "Protect the Poppy" day of action.
The Sea Cadets said it does not support the party and asked for the pictures to be removed.
The pictures were published on Britain First's website and Facebook as part of its campaign to keep vendors "safe".
The Nottingham branch of the Sea Cadets responded on Facebook saying: "Please rest assured we do not support Britain First. The cadets were approached by these [men] and asked for a photo."
The national charity said it was an "apolitical organisation, open to all faiths and none."
The comment drew support from hundreds of people on social media, with many branding Britain First as "racist" and "creepy" for posing with youngsters.
Pictures of other young poppy sellers in different parts of the country were also published.
Sea Cadets UK said Britain First has yet to respond to its request to take down the photographs.
The BBC has attempted to contact Britain First but it has failed to respond.
On its website it said: "Britain First held a national day of action where our activists stood guard over poppy sellers around the country amking [sic] sure they were safe."
The political party was formed by ex British National Party members and its policies include halting immigration, offering grants to tempt "those of foreign descent" to leave the UK and withdrawing from the EU.