St Joseph's School children 'at risk from road changes'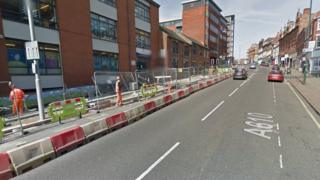 Roadworks and changes to a road layout near a school are putting children in danger, a head teacher has said.
Nottingham City Council removed a guard rail outside St Joseph's School and Nursery as part of "improvements to pavements and roads".
But head teacher Ashley Crawshaw said he was worried children could run into the busy, three-lane Derby Road outside the school.
The council said changes were made in consultation with road safety auditors.
Steve Hunt, head of traffic and safety, said: "The pavement there has been widened and can now safely accommodate larger groups of pedestrians."
But Mr Crawshaw said: "The council feels aesthetics are more important than safety.
"Not having the railings out on to a busy road like this compromises their [the children's] safety."
A cigarette bin has also been placed near the school entrance, causing further concern for the head teacher.
"I have a bin straight outside my school, encouraging people to smoke, setting a bad example to children," added Mr Crawshaw.
Parents used to park nearby in Upper College Street when dropping their children off, but restrictions were put in place in March due to the roadworks.
Parents say this has left nowhere to safely drop off their children and the BBC has spoken to eight parents who have all been fined for parking in Derby Road.
One parent, Laura Hunt, said: "My car nearly got towed, which is what you don't expect on the school run."
Mr Hunt said: "We are aware local residents, businesses and schools have been inconvenienced during this period and we apologise for that, but once the works are completed we believe it will significantly improve the area."