HS2 East Midlands hub: Toton only location being considered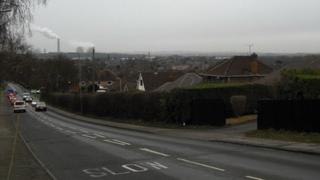 Toton in Nottinghamshire has been confirmed as the only location being considered for the East Midlands' HS2 hub.
HS2 Ltd had suggested Breaston in Derbyshire was an option but chairman Sir David Higgins has said it is no longer on the cards.
The proposal will now be presented to government ministers, who will make the final route decision.
Broxtowe MP Anna Soubry said it was "fantastic news" for the area.
Sir David made the announcement at a meeting of the East Midlands HS2 Strategic Board in Nottingham on Tuesday.
In 2013, Toton became the government's first choice but in October, Breaston was also explored as an option, despite a report rejecting the idea in March 2012.
Toton was also thrown into doubt because of the cost, as a tunnel would have to be constructed under East Midlands Airport.
Earlier this year, Sir David said delays in naming the hub's location were "unsatisfactory" for those living in the areas.
Ms Soubry said it will bring jobs and prosperity to the entire constituency.
---
Relief for couple 'followed' by HS2
Kelly Steed and her husband James moved from Toton to Breaston partly because of the threat of the HS2 station. She said they were "relieved" at the news.
"All the infrastructure's already there in Toton. Breaston is more of a village location - the argument was it was closer to Derby but only by a couple of miles.
"I personally think it was a lot of smoke and mirrors. I think the intention all along was to have it in Toton. It made people in Toton want it more when they suggested Breaston.
"But it caused unnecessary worry for people in Breaston about the disruption."
---