Classic Ford Capri pulled from Nottinghamshire boating lake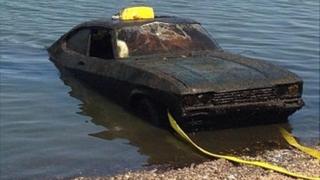 A 33-year-old classic car has been recovered from the bottom of a boating lake.
The 1982 Ford Capri was discovered during a "routine weed check" of the Regatta Lake at Holme Pierrepont Country Park, Nottinghamshire.
DVLA records suggest it could have been dumped in the 13ft (4m)-deep waters more than 20 years ago, police said.
It is thought to have been stolen, police said, but tracing the owner would be difficult due to the time.
The car was found on 30 June and recovered the next day, but details of the find have only just been confirmed.
Police diver DS Nick Sawdon said: "It was half full of sand so we had to use lifting bags and winches to recover it."
A family of eels was found living in the car's footwell, he said.
The Capri was built by Ford of Europe from 1969 to 1986, gaining a major following due to appearances in TV shows such as the Professionals.
A police spokesman said the car, if sold in pristine condition, would be worth about £15,000.