Nottingham's Emett Clock returns to Victoria Centre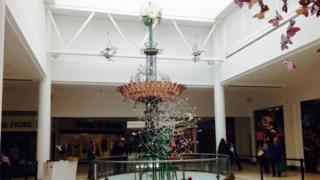 A familiar sight to shoppers in Nottingham, the Emett Clock, has been returned to its home in the Victoria Centre after an absence of 18 months.
During its absence the water clock has been refurbished and formed part of an exhibition in Birmingham dedicated to its creator Rowland Emett.
The clock, called the Aqua Horological Titinabulator, was designed in 1973.
Work on the 23ft (7m) structure formed part of a major revamp of the shopping centre.
'Sorry state'
Parts of the clock were lost or had stopped working in the four decades since its installation and so volunteers were recruited to repaint and fix it in 2013.
Former engineer Pete Dexter spent 500 hours working on the timepiece in the shopping centre's basement.
"It was in quite a sorry state," he said.
"I wanted it to be working for my granddaughter so when she grows up she can look back and say 'my granddad got that working again'."
The clock has been given pride of place in a new location on the shopping centre's upper floor.
Manager Nigel Wheatley said: "It's a combination of a lot of work from a lot of people."
He defended the new location for the clock, saying the natural lighting made it the ideal spot.