Teacher injured in 'school knife incident'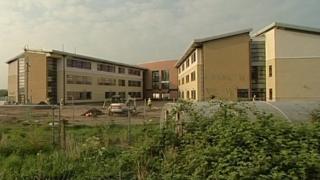 A teacher was injured in a what police described as a "suspected knife incident" at a Nottinghamshire school.
A 16-year-old boy was arrested on suspicion of possessing an offensive weapon after the incident at Emmanuel School in Wilford on 10 June.
The male teacher was trying to "calm down a situation" when he suffered a minor injury, but did not need medical attention, it is understood.
The boy was released on bail and the investigation is ongoing, police said.
The police and the school did not give any precise detail about the nature of the incident.
Officers are investigating whether the teacher's injury was caused by a knife, a police spokesman added.
School principal Carol Fearria said: "School staff responded to this matter swiftly and effectively.
"One member of staff suffered a minor injury, the cause of which is forming part of the police investigation."