Newark street racers jailed for high-speed crash death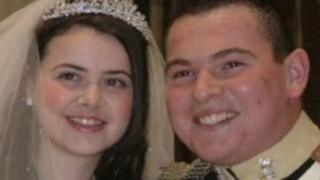 Two speeding drivers have been jailed for killing a man as they raced at high speed through a town centre.
Callum Leach, 21, and George Allen, 19, admitted causing death by dangerous driving. Their race, in Newark, Nottinghamshire, was said to have been inspired by the film Fast and Furious.
Witnesses said the two reached 80mph in the 30mph zone, killing Craig Cooke who was driving home to North Tyneside.
They were each jailed for nine years and banned from driving for 10 years.
Mr Cooke was killed on 23 December, 2013, when his vehicle was hit by Allen's car as he drove through the town on his way to Whitley Bay.
The 25-year-old former soldier died at the scene from multiple injuries.
Mr Cooke had been in the Army for six years and had left earlier in 2013 to spend more time with his family.
In a statement read out in court, his widow, Mel, described Mr Cooke as a hero and role model.
"He was my whole life," she said.
"I still cry every day as I think about him all the time.
"However I have to face the morning with a smile for the sake of Codie, our daughter, but inside I just want to scream."
Leach and Allen, both from Newark, were also both sentenced to 30 months in prison for causing serious injury to a passenger in Allen's car.
Judge Michael Stokes QC told them: "Craig Cook was a hero and you were anything but.
"You return to your family... he will not."
Speaking outside court Mr Cooke's aunt, Diane Hillary, said: "The death of Craig has greatly affected us all and we will never forget being awoken in the early hours of Christmas Eve to the devastating news.
"We could have coped if he died in Afghanistan because that was his job and he knew the risk, but to lose such an exceptional person due to the stupidity of others cannot be overcome."