Nottingham Iremonger brothers' football medals auctioned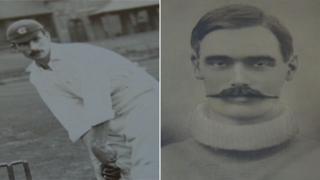 Medals won in the early 1900s by two brothers who played for Notts County and Nottingham Forest have been sold at auction.
James Iremonger achieved fame as a Nottinghamshire cricketer, as well as playing for Nottingham Forest and later becoming a coach at Notts County.
His 6ft 5in younger brother Albert, was a goalkeeper for Notts County, making 564 league appearances.
The medals sold for more than £5,000 at an auction in Nottingham.
As well as a Football League Division Two champion's medal, other items in the sale included a gold medal awarded to James Iremonger for the England v Scotland match of 1901, which ended 2-2.
He won three England caps; versus Scotland and Germany in 1901 and Ireland in 1902.
After leaving Forest he joined Notts County as a coach.
Albert Iremonger's Notts County title medal was included in the sale.
He also played first-class cricket for Nottinghamshire but it was as a goalkeeper he was most revered.
He achieved a club record of 564 league appearances between 1904 and 1926.
Iremonger Road off Meadow Lane, where Notts County play, is named after him.
Nigel Kirk, from auctioneers Mellors and Kirk, said these days many clubs "owe their success, or failure" to managers and owners.
"But it is the great names of the past, multi-talented sportsmen such as the Iremongers... who didn't earn a fortune but still enthralled the fans, on which the worldwide reputation of the leading English clubs has been built," he said.