Bitterns still 'conservation concern' for Nottinghamshire Wildlife Trust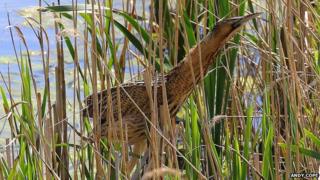 A wildlife trust has said more work needs to be done to increase numbers of the endangered bittern, despite the hatching of two chicks at a reserve.
Last week, the rare species bred for the first time at Attenborough Nature Reserve in Nottinghamshire.
Erin McDaid, of the local wildlife trust, said there was only a "fragile population" in the UK and they were still a conservation concern.
There are only about 80 breeding males recorded in the UK, the RSPB said
Mr McDaid said areas along the River Trent were "exceptionally important" for wetland birds and crucial when it came to navigation during migration.
In the past much of the Trent's wetland was drained, resulting in a loss of reedbed habitat which supports a range of wildlife.
This was addressed at Attenborough, alongside the River Trent, when a new reedbed was established in 2000.
"We didn't set out to just benefit one species," said Mr McDaid.
"Bitterns were a pipedream, but we had to create good quality habitat to start with.
"[The hatching of the chicks] has put Nottinghamshire back on the wildlife map, but bitterns are still a species of conservation concern and are not out of the woods."
Last year, Blott's Pit, a former gravel extraction site, was secured as part of £1m project, near to the trust's own Skylarks Nature Reserve and the National Water Sports Centre.
The land was considered crucial to a range of wildlife and the trust acted quickly to protect it and create a wildlife safe haven.
Male bitterns have already been heard at the new site making their famous booming mating call.
It is hoped reedbeds will be created at more sites along the River Trent in the near future, helping the species further.