Early use of patch 'could help treat strokes'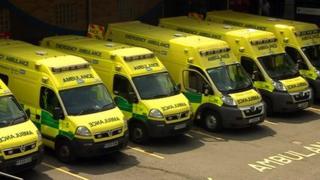 A national trial to test the effectiveness of a medicated skin patch in treating stroke victims is being backed by the British Heart Foundation.
The patch will be used by paramedics in seven ambulance trusts in England over the next three years.
The glyceryl trinitrate in the patch helps lower blood pressure and opens up blood vessels, Nottingham-based research leader Philip Bath said.
The five milligram patches are inexpensive and easy to apply, he said.
Placebo patch
"This patch can be introduced very quickly. It is already used for angina patients.
"Paramedics already use the same drug and they normally give it as a spray rather than a patch," he added.
The £1.3m "rapid intervention" trial, involving 850 patients, will include the use of either a medicated patch or a placebo patch in ambulances and at patient's homes once the signs of a stroke are noticed.
The results will allow researchers at the University of Nottingham's School of Medicine to decide if the treatment is effective and should be rolled out to patients across England and worldwide.
Other trials over the past decade have shown the patches work more effectively if they are used as early as possible after the symptoms of a stroke are recognised.
The ambulance trusts taking part include those in Scotland, Wales, Yorkshire, East of England, West Midlands, South West England as well as the East Midlands.
About 152,000 people suffer a stroke every year in the UK, according to the Stroke Association.
Jeremy Pearson of the British Heart Foundation said: "Current treatment for stroke includes the use of clot-busting drugs, but unless used quickly their effect is limited.
"This new trial will use a simple treatment that can be applied rapidly by paramedics as soon as they reach the patient, with the hope that by intervening as quickly as possible patient outcomes can be improved."