Arriva transport criticised for keeping patients waiting up to four hours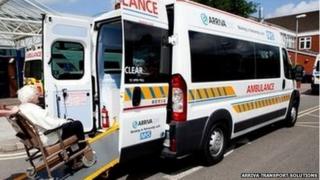 A patient transport service is leaving some people waiting up to four hours to be taken to and from hospital, according to a healthcare watchdog.
Healthwatch Nottinghamshire spoke to 50 renal patients at Nottingham's City Hospital after receiving complaints about their experience with Arriva.
In its report, the watchdog said 90% of patients criticised the long waiting times and said they "felt ignored".
Arriva Transport Solutions said it was working hard to make improvements.
Healthwatch found patients were physically and emotionally affected by the service's poor co-ordination.
It said: "Our evidence includes many examples provided by patients and renal unit staff, of poorly planned journeys and poor use of vehicles.
"This is creating inefficiency, which patients and staff felt was in some part responsible for the poor punctuality of the service."
'Distressing and unpleasant'
Diana Hardy, 75, from Newark attends kidney dialysis sessions three times a week and said: "It's not a very pleasant journey at all. It takes everything out of you."
Sue Thomas, who has waited up to four hours for transport, said: "The waiting distressed me a lot. I just wanted to get home.
"When you are not feeling well and in pain, you are just sat there getting upset because they don't seem bothered. They don't care."
Arriva said it "welcomed" the report and the "valuable insight" into patient experiences.
A statement read: "We fully understand the impact transport can have on the lives and treatment of renal patients and a number of measures have already been put in place to address some of the concerns raised in this report.
"This winter the whole healthcare community experienced unprecedented pressures on services and our performance was affected as a result."
Neil Moore from the NHS Mansfield and Ashfield Clinical Commissioning Group (CCG), which awards Arriva's contract, said the findings were "unacceptable".