Lib Dems replace Ashfield candidate Jason Zadrozny after sex arrest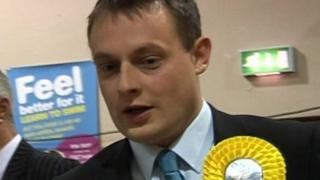 The Liberal Democrats have replaced Jason Zadrozny as their candidate for Ashfield in Nottinghamshire after he was accused of child sex offences.
Mr Zadrozny, who "vehemently refutes the allegations", was suspended by the party when he was arrested last week.
Philip Smith, a former deputy mayor of Mansfield and member of the group for 25 years, will fight for the seat.
Labour's Gloria De Piero became the constituency's MP in 2010 with a margin of just 192 votes over Mr Zadrozny.
Mr Zadrozny was arrested last week and his election campaign office raided after he was accused of child sex offences, dating back to 2003/4.
Samantha Deakin, chair of the local party, said: "This has been an extremely difficult week for the Liberal Democrats here in Ashfield and Eastwood.
"Whilst we fully back Jason Zadrozny's campaign to clear his name we need to give people a chance to vote for change in May."
Mr Smith, 52, described as a political veteran, said: "I am delighted to have been selected to fight what is a key seat for the Liberal Democrats".
So far candidates include Labour's Gloria De Piero, the Conservative's Helen Harrison, UKIP's Simon Ashcroft and the Justice for Men and Boys' Mike Buchanan.
A full list of candidates will be published when the deadline for nominating candidates has passed.