Lib Dems suspend Ashfield candidate Jason Zadrozny after sex arrest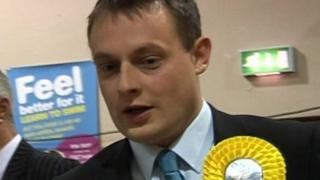 A parliamentary candidate has been suspended by the Liberal Democrats after he was arrested over child sex abuse allegations.
Jason Zadrozny was standing in the Ashfield and Eastwood constituency in Nottinghamshire.
Police said the allegations related to one child.
Mr Zadrozny, whose election campaign office was raided by police on Wednesday, said: "I vehemently refute the allegations."
Nottinghamshire Police said a 34-year-old man was arrested and questioned about an allegation of gross indecency with a male under 16 in 2003/4.
Other allegations include sexual activity with a child between 2004 and 2007, and meeting a child following sexual grooming between the same dates.
Mr Zadrozny said: "I am today withdrawing my candidacy as a prospective parliamentary candidate for the constituency.
"Yesterday I was questioned by Nottinghamshire Police about historic allegations, some of which are over ten years old.
"I vehemently refute the allegations."
The politician, who served on both Ashfield District Council and Nottinghamshire County Council, was bailed until June.
The Lib Dems said the party had been made aware of a police investigation in Ashfield and had suspended the party's parliamentary candidate pending the outcome.
The process of finding a new candidate is under way, a spokesman said.